Newsletter
Hummingbot Newsletter - March 2023
🚀 Shipped v1.14 release | 💪 New Quickstart and Installation docs | 🎓 Botcamp Demo Day Recaps | ☎️ Community Call Demos | 🗳 Vote in Epoch 4 Poll
Published each month when we ship a new Hummingbot release, this newsletter serves a regular dose of updates about our latest features 🤖 upcoming events 🎉 and announcements from our global 🌐 community!
🚀 Hummingbot v1.14.0 release
We are very excited to ship the March 2023 release of Hummingbot (v1.14.0) today! This release focused on improving the documentation: we added a new Quickstart Guide, revamped the Installation section, and injected more video 📺 content to many pages!
This release also added new connectors to Kucoin (perp), Dexalot (Avalanche CLOB DEX), and updates to the Orchestration Module, hedge strategy, and PositionExecutor components.
Read the v1.14.0 release notes for more information.
---
💪 New Quickstart Guide and Other New Docs
Hummingbot is transforming from a simple market market bot into a powerful framework that lets you build any quant strategy on any crypto exchange. We are excited to present the Hummingbot Quickstart Guide that will help you learn how to build and customize a market making Script over five different exercises.
We also added/improved the following documentation pages in this release:
---
🎓 Botcamp Demo Day Recaps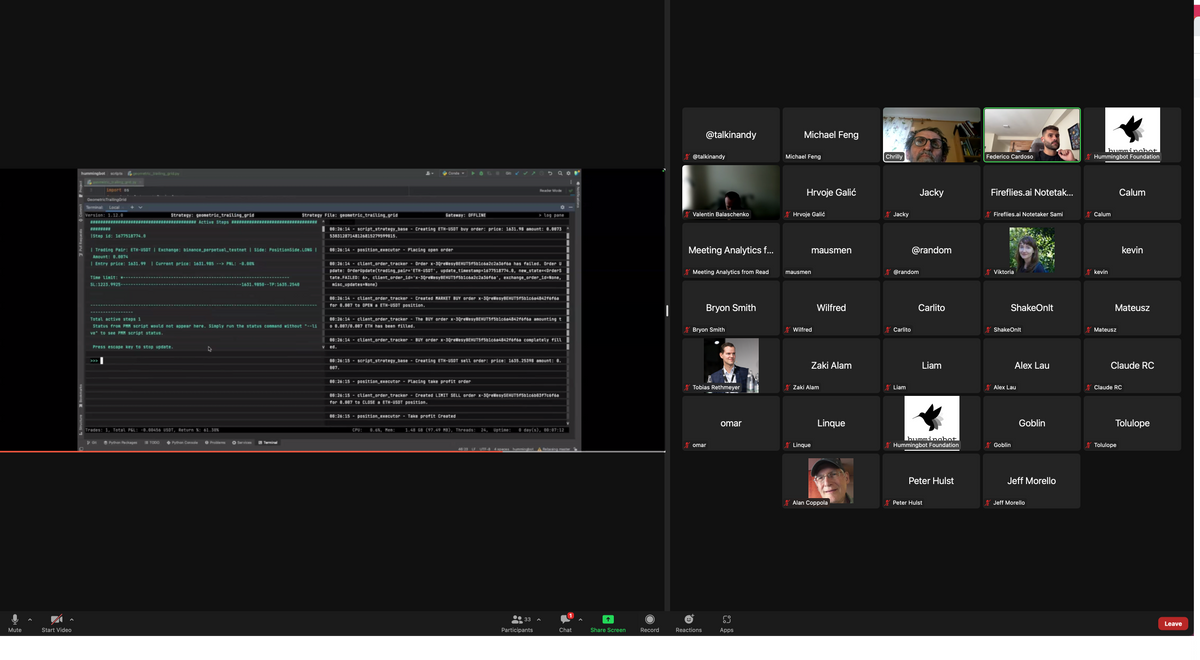 The 4th cohort of Hummingbot Botcamp recently started with 22 new students. To date, over 80 students have now gone through our intensive, hands-on dev bootcamp where they learn how to build their own custom quant trading strategy using Hummingbot in only 6 weeks!
Each cohort culminates in a public Demo Day, where students present their code and demo their running Scripts. We wanted to highlight the amazing strategies they created, and celebrate their hard work and creativity, so watch the Demo Day Recaps below!
Feel free to try out their strategies in Hummingbot yourself!
---
In order to deliver the best possible possible experience, we are moving to a quarterly cohort model for Botcamp, so Cohort #5 will start in June/July 2023.
We have started processing applications and will be capping the number of students, so reserve your spot today before they are all gone!
---
☎️ New Community Call Schedule
Each month, we livestream two community calls on our Discord server. Afterwards, we post recordings on our YouTube channel.
Community Demo calls
Monthly release highlights, community demos, AMA
Next call => Wednesday, April 5th, 3pm UTC / 7am PST / 10am EST / 10pm SIN (Discord Event Link)
Previous call: See below
"How To" calls
Developer-focused lessons that show you how to build or extend your strategies with Hummingbot
Next call => How To Use the StreamLit Apps: Wednesday, April 19th, 3pm UTC / 7am PST / 10am EST / 10pm SIN (Discord Event Link)
Previous call: See below
Check out the Foundation calendar for links to these monthly calls and other upcoming events.
---
🗳 Vote for your favorite CEXs and DEXs!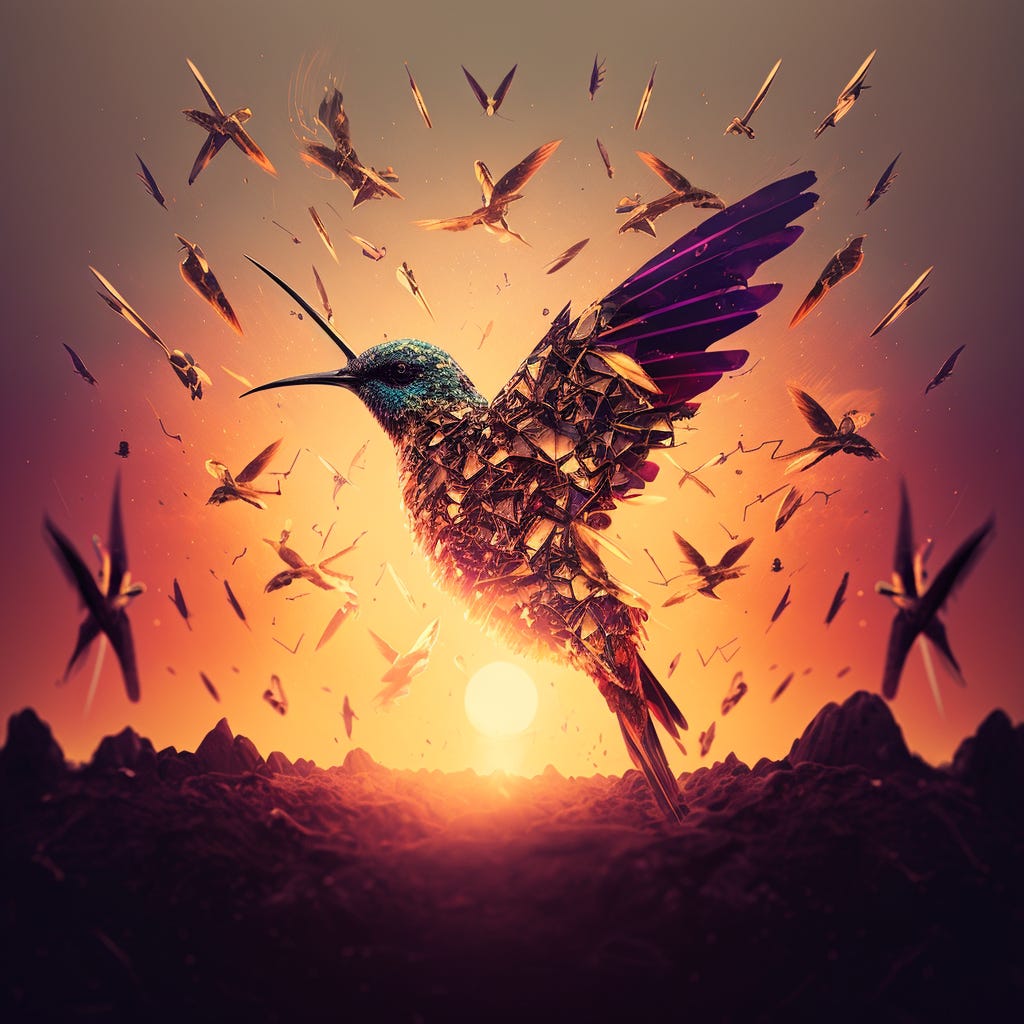 Next week, we will create the Epoch 4 Polls, which allow the community to decide how engineering/QA bandwidth and dev bounties should be allocated across the exchange connectors and strategies in the codebase.
Note that since the HBOT delegation system has ended (as described in this blog post), community HBOT holders have much more voting power than before, since locked, un-released tokens can no longer be voted. We believe that this change will help to foster a more robust and engaged community around our project, and we are committed to continuing to improve our governance processes in the future.
Join the discussion on Discord for each upcoming Poll:
These polls will be created on Snapshot on Wednesday April 5 and run for 7 days.
---
❌ Don't fall for HBOT scams!
Finally, we have seen reports of scammers DM-ing users on Discord, Twitter and other channels advertising fake HBOT token sales, as well as bot spammers that impersonated the names & profile of Hummingbot Foundation team members.
If you see anyone trying to scam Hummingbot users, please report it in the new #scam-reports Discord channel.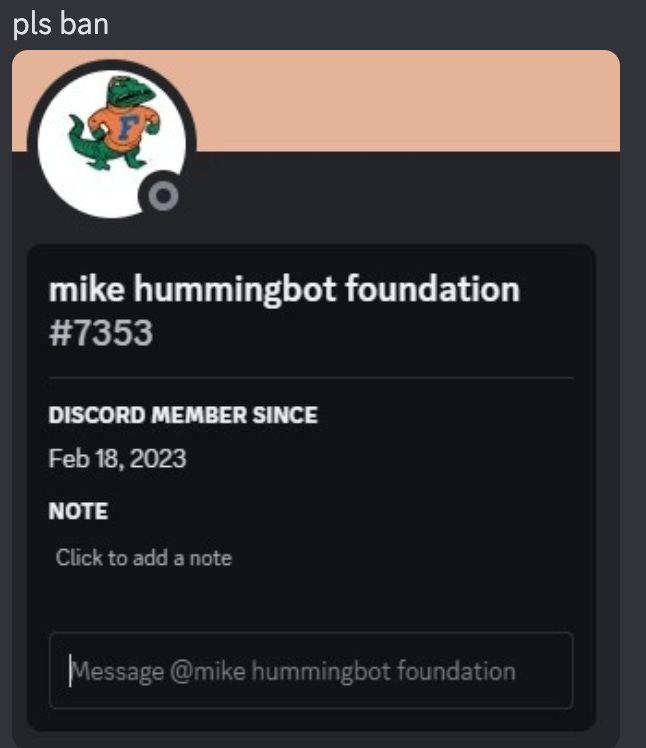 Hummingbot Foundation has never conducted any pre-sale or sale of HBOT tokens, and anyone purporting to offer HBOT tokens is a scammer.
The only way to get HBOT tokens from the Foundation is to earn them.