Newsletter
Hummingbot Newsletter - February 2023
🚀 Shipped v1.13 release | 📈 New Directional framework | 📺 Stoikov Hummingbot video | ⚙️ New Gateway and Orchestration repos | 🥳 Board of Directors election results
Published each month when we ship a new Hummingbot release, this newsletter serves a regular dose of updates about our latest features 🤖 upcoming events 🎉 and announcements from our global 🌐 community!

🚀 Hummingbot v1.13.0 release
Standalone /gateway, /deploy-examples, and /brokers repos
PositionExecutor component in Directional Framework
Custom OHCLV Binance candles generator
BTC Markets Connector
New script examples
Read the v1.13 release notes for more information.
---
📈 New directional framework
Federico, the CTO of Hummingbot Foundation, delved into the intricacies of the new Directional Framework in last month's developer call above. This new feature, one of the key milestones in our 2023 Technical Roadmap, expands Hummingbot's capabilities to more general algo trading strategies.
He provided a comprehensive overview of various functions and their interconnectedness within the codebase. To further illustrate its capabilities, he presented two sample scripts showcasing both simple and advanced directional strategies.
We encourage further discussions, feedback & suggestions at Discord's #directional-framework channel.
📺 Stoikov video on market microstructure and Hummingbot
Sasha Stoikov, legendary quant researcher and co-author of the seminal paper on market making upon which our Avellaneda strategy is based, featured Hummingbot in his lecture above about a new price estimator called micro-price.
Also, check out the micro-price sample script that Botcamp student Nathan Le added in the last cohort!
---
⚙️ New Hummingbot repos and docs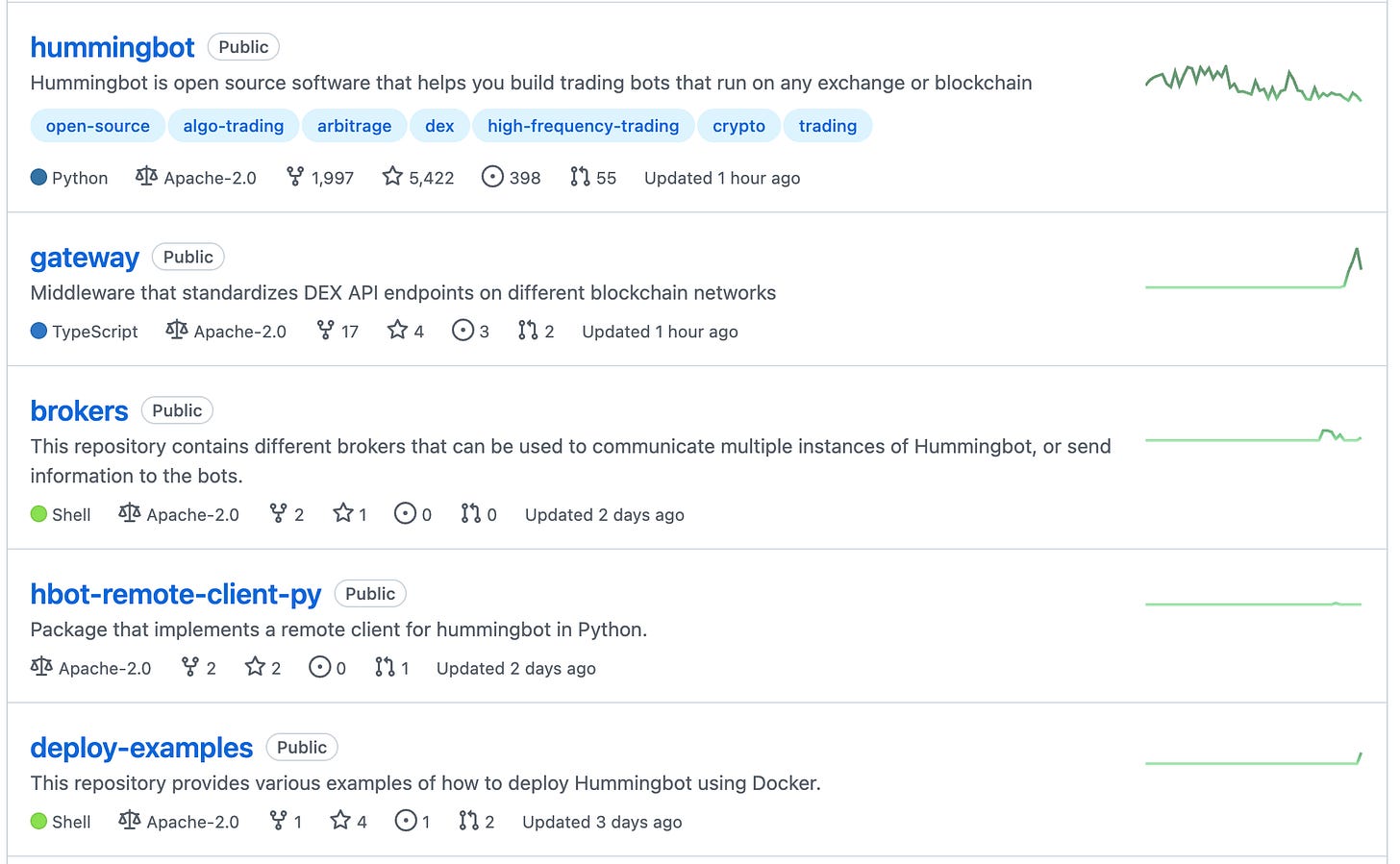 In this release v1.13.0, Hummingbot's Gateway DEX connector module is now a standalone repository. We are excited to unveil our enhanced Gateway docs, which features comprehensive guides on installing, testing and using Gateway.
In addition, the following new repos may be helpful for advanced Hummingbot users:
brokers: Orchestration layer that manages multiple bots
deploy-examples: Various deployment configurations for Hummingbot using Docker
---
🤖 Student experience with Hummingbot Botcamp
Please check out Makir's brief presentation on his experience of creating a custom algorithmic trading bot while participating in Hummingbot Botcamp.
As a refresher, Botcamp is an intensive, hands-on, 4-week course where anyone can learn how to create market making and quant trading strategies using Hummingbot.
Here are some benefits to participating in the Botcamp:
New content on building scripts for DEXes with Gateway
Receive practical assistance and guidance in creating your scripts from our mentors and community
Connect with other community members who are startup founders, hedge fund traders, and developers actively researching HB for various strategies.
In addition, we have started processing applications for the next Botcamp cohort, which will start in late March 2023. Reserve your spot today before they are all gone!
---
🥳 Board of Directors election results
We extend the sincerest congratulations to the newly elected Board of Directors:
Michael Feng
Michael Timmons
Hoang La
Gene Cheon
Brett Gibson
Thank you to all the community members who participated in the vote. We really appreciate your participation and support! 🙏
---
👨‍💻 Event and Content Incentives update
We are truly grateful for community support and approval of the [HGP-33] Event and Content Incentives proposal.
The proposal will provide reward to the community members who shared their expertise, experiences, and skills related to Hummingbot ecosystem via YouTube livestream or blog post.
We are thrilled to invite community members who are keen to share their knowledge related to Hummingbot via YouTube Livestreams and/or blog posts.
To get started, please complete this form.
---
🤝 Community Incentives update
We are also grateful for the approval of the [HGP-32] Community Incentives proposal.
This proposal builds upon the previously approved HGP-27, which was implemented as a 7-week trial. We are pleased with the level of engagement and support shown by community members during the trial period. It is encouraging to see the dedication and commitment demonstrated by these members.
In addition, we invite you to join the Community Incentives which gives opportunity to share your skills and experiences while getting rewarded weekly. We believe that the more participants we have, the more we can learn from each other.
To participate, please fill up & submit the AML Policy Form.
---
☎️ Community call featuring OpenBook connector demo
We livestream monthly calls via YouTube that summarize the key happenings in the past month.
During this call, the bloXroute team will share & present a demo about the Hummingbot connector they built for OpenBook, a community-run Solana DEX based on the Serum codebase. bloxRoute is a global content distribution network of high performance servers for blockchain scalability. Don't miss it!
When: Wednesday, March 1st, 3pm UTC / 7am PST / 10am EST / 10pm SIN
Where:
Agenda:
v1.13 Release Highlights
Gateway Updates
bloXroute Demo
AMA
---
❌ Don't fall for HBOT scams!
Finally, we have seen reports of scammers DM-ing users on Discord, Twitter and other channels advertising fake HBOT token sales, as well as bot spammers that impersonated the names & profile of Hummingbot Foundation team members.
If you see anyone trying to scam Hummingbot users, please report it in the new #scam-reports Discord channel.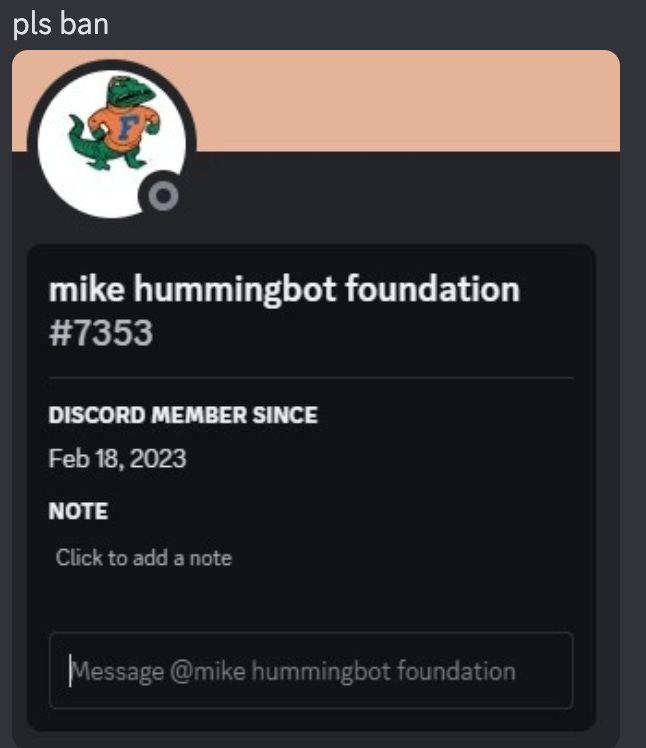 Hummingbot Foundation has never conducted any pre-sale or sale of HBOT tokens, and anyone purporting to offer HBOT tokens is a scammer.
The only way to get HBOT tokens from the Foundation is to earn them.