Newsletter
Hummingbot Newsletter - January 2023
🚀 Shipped v1.12 release | 🗳️ Epoch 3 Polls Recap | 🤖 Botcamp Cohort #3 | 🗺️ 2023 Governance Roadmap | 👨‍💻 dMiner Platform Updates | Orchestration Demo
Published each month when we ship a new Hummingbot release, this newsletter serves a regular dose of updates about our latest features 🤖, upcoming events 🎉, and announcements from our global 🌐 community!
➡️ Subscribe to never miss any new issue.
🚀 Shipped Hummingbot v1.12!
We are excited to ship the January 2023 Hummingbot release (v1.12) today. Highlights include:
Revised exchange connector and strategy doc pages to reflect Epoch 3 Poll changes
Orchestration Module Phase 1
Updates to hedge strategy
New blockchain supported: Cosmos
Read the v1.12 release notes for more information.
---
🗳️ Epoch 3 Polls Recap
We finished the first set of Polls, an initiative that allows the holders of HBOT to make decisions on how the Hummingbot Foundation distributes its engineering resources and developer bounties among the different components in the Hummingbot codebase.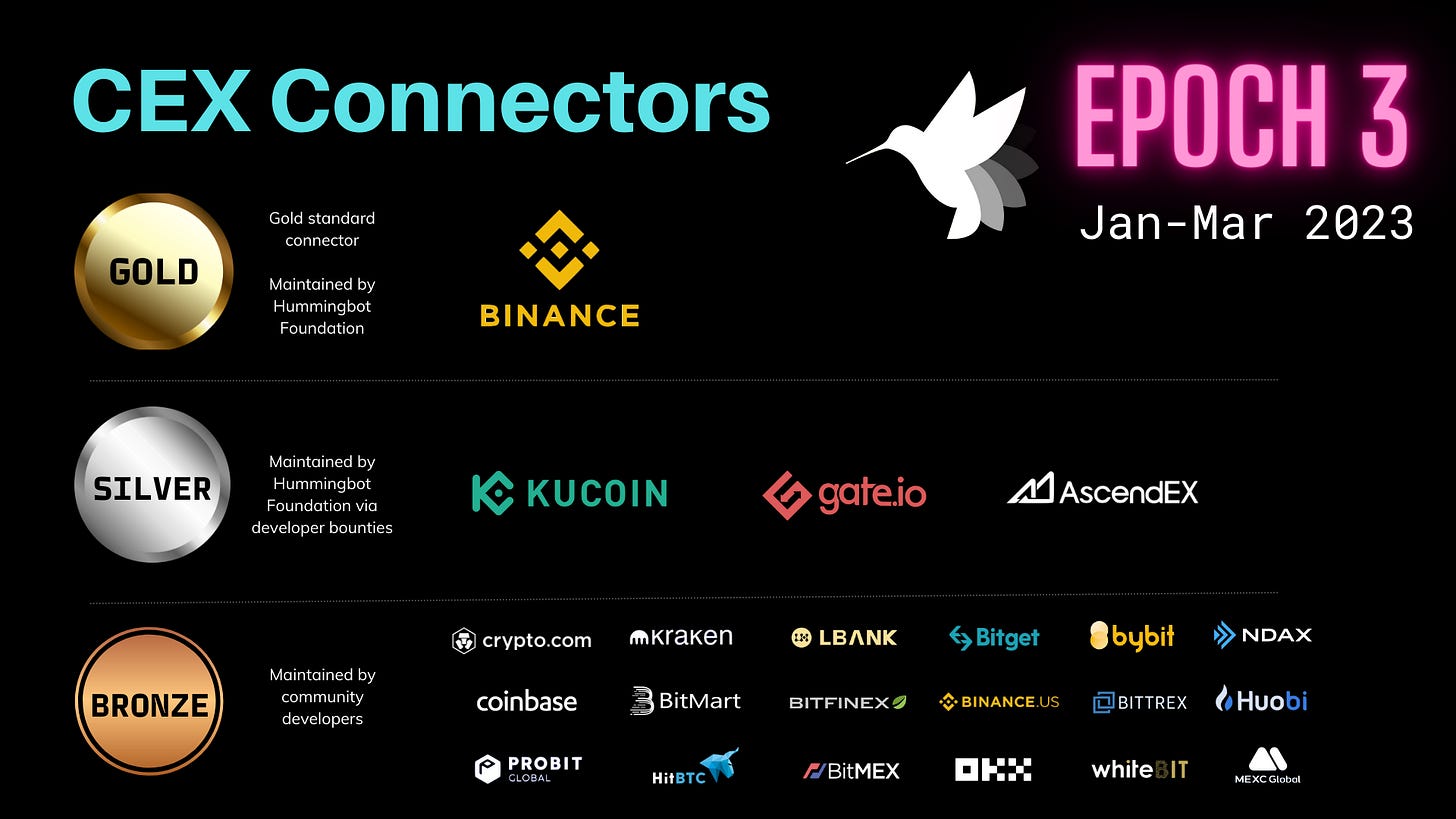 The CEX Connectors poll placed centralized exchange connectors into Gold, Silver and Bronze tiers, which define the level of maintenance that the Foundation spends on each connector. The poll received 39 distinct votes, for a total of 22 million HBOT voting power spent.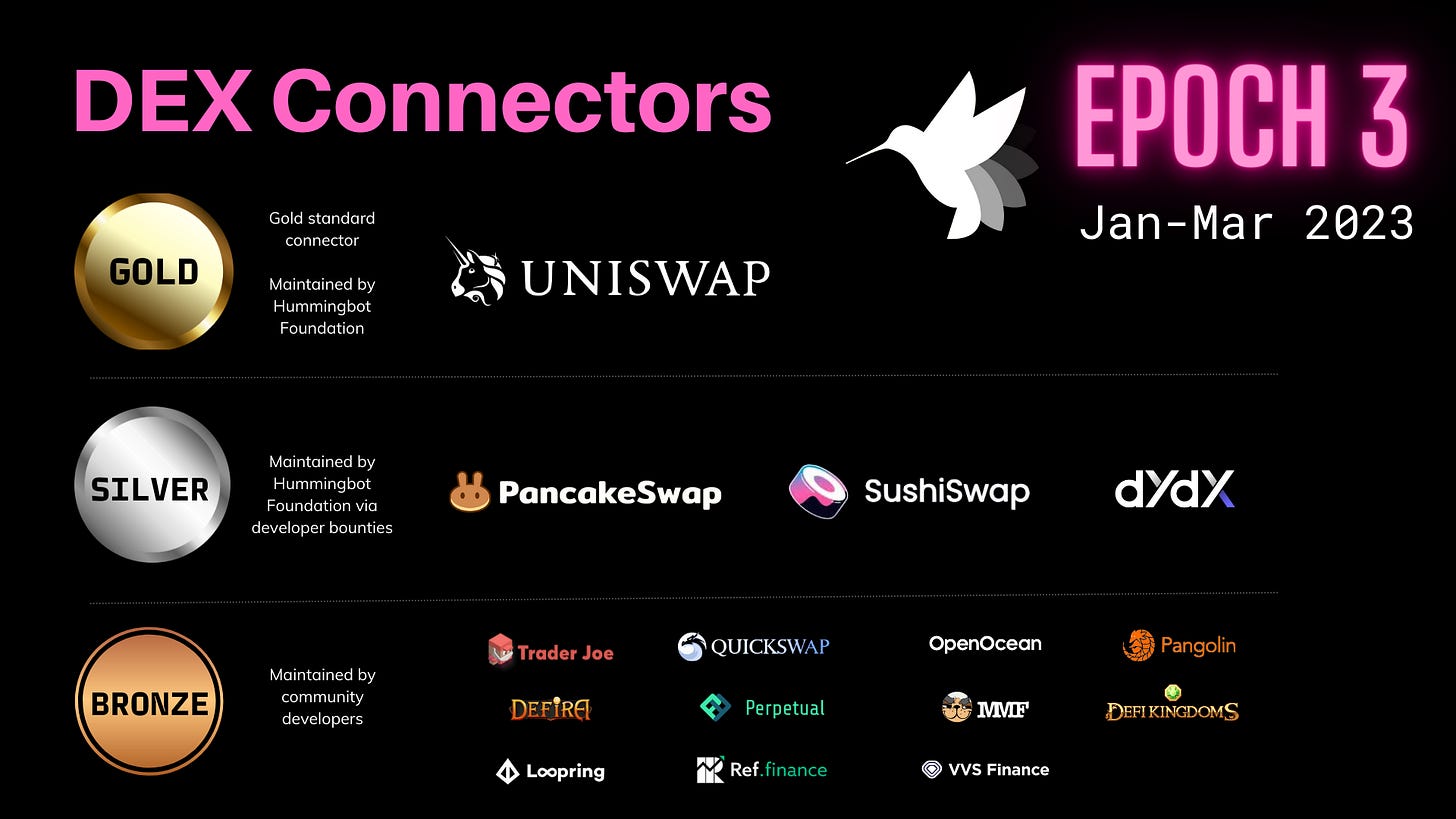 The DEX Connectors poll placed decentralized exchange connectors into Gold, Silver and Bronze tiers, which define the level of maintenance that the Foundation spends on each connector. The poll received 32 distinct votes, for a total of 20 million HBOT voting power spent.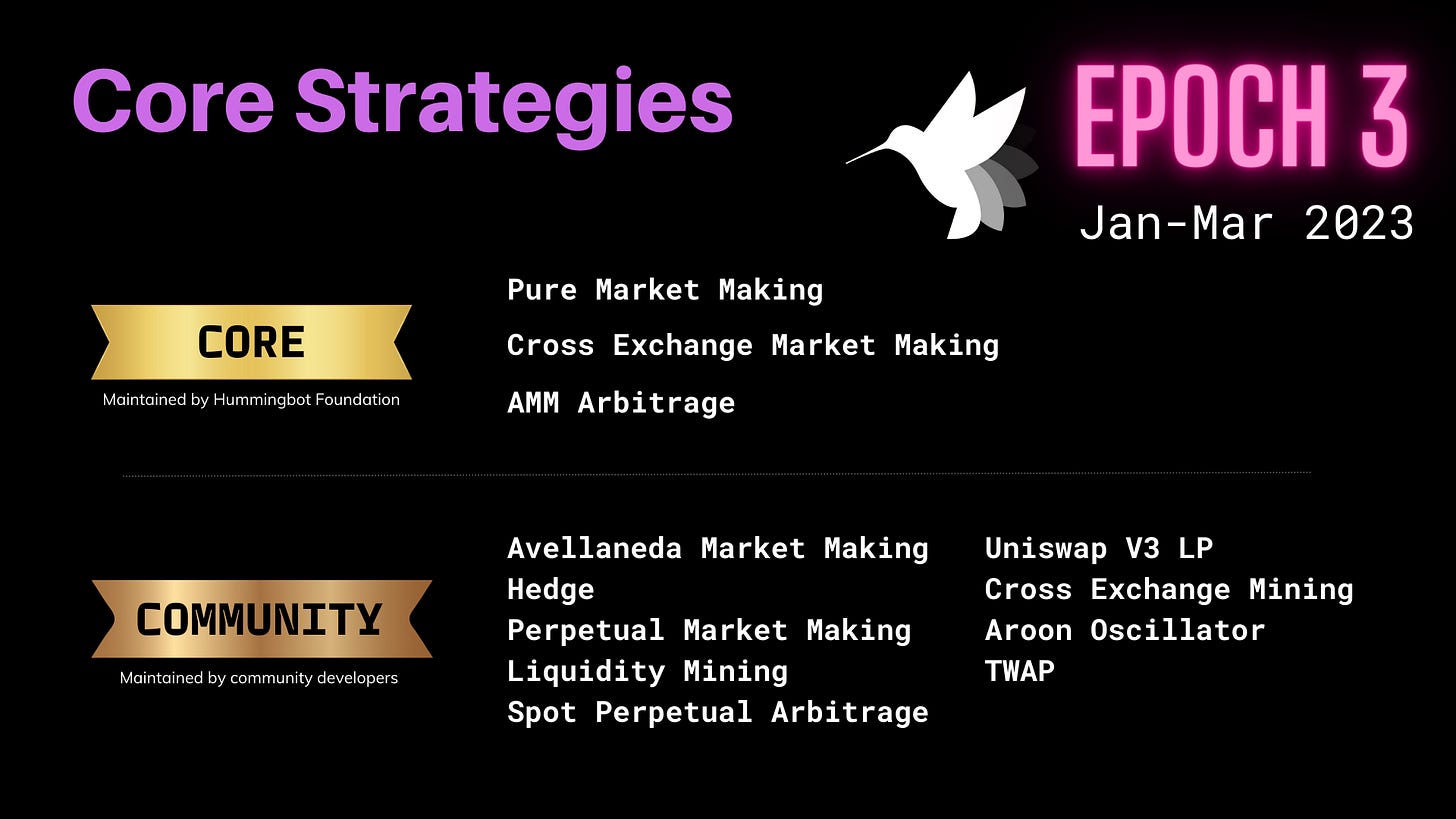 The Core Strategies poll defines which strategies should be Core (officially maintained by the Foundation) versus Community (maintained by community members or not maintained). There were 33 unique votes in the poll, and the total number of HBOT voting power tallied was 20 million.
In conclusion, we are thrilled about the engagement and discourse that the initial set of Polls sparked, and we look forward to developing the governance through Polls further in the future.
For more information, please see this blog post for results and other details.
---
🤖Hummingbot Botcamp Cohort #3 Starting Soon
We are extremely thrilled to begin the 3rd cohort of the Hummingbot Botcamp with first live session on 31st January 2023.
As a refresher, Botcamp is an intensive, hands-on, 4-week course where anyone can learn how to create market making and quant trading strategies using Hummingbot.
In addition, we have started processing applications for the next Botcamp cohort, which will start in late March 2023. Reserve your spot today before they are all gone!
---
🗺️ Hummingbot's 2023 Governance Roadmap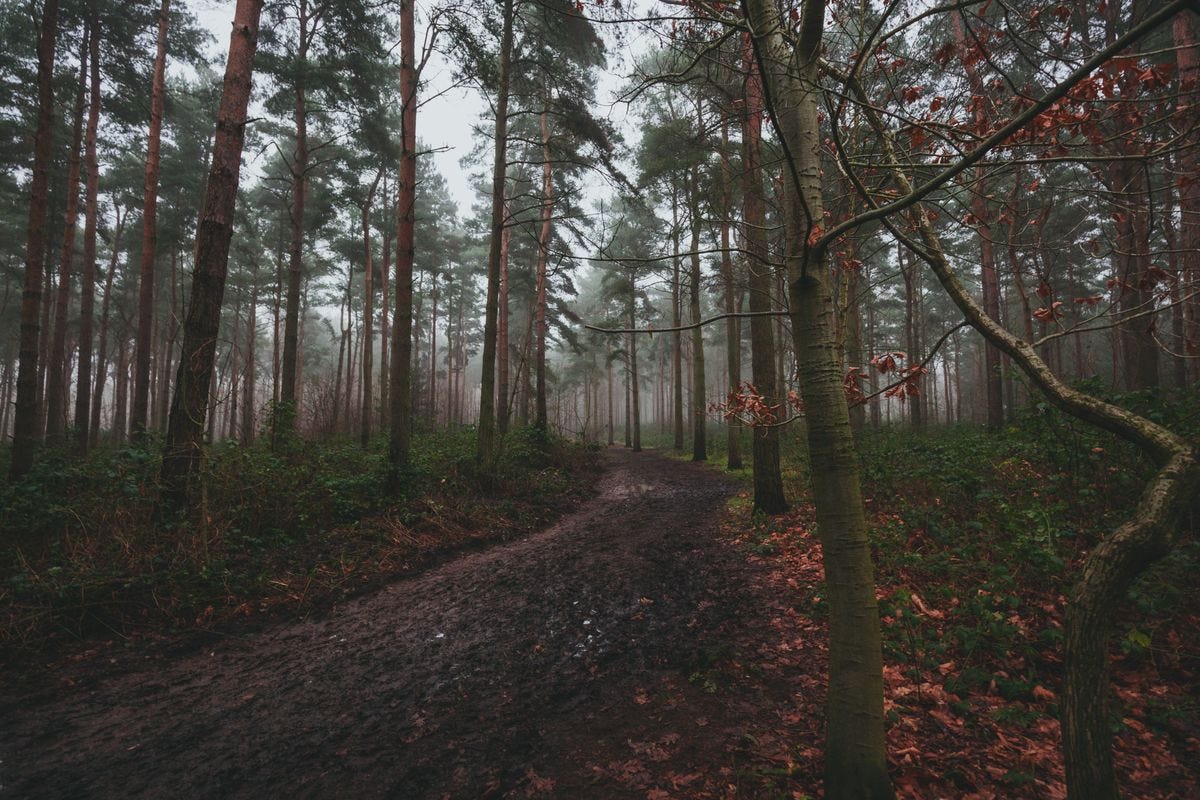 We are excited to share the Hummingbot's 2023 Governance Roadmap blog post which shared the Foundation's plan to start regular monthly Polls to allow HBOT users to decide how the scarce maintenance bandwidth would be allocated across various exchanges, strategies, and issues in the Hummingbot codebase.
Here are the main things we want to achieve:
Ensure that Hummingbot Foundation is cashflow-positive without reliance on HBOT: We aim that Botcamp will grow to become the Foundation's primary revenue source, in addition to revenues from exchange fee share partnerships.
Make voting with HBOT simple, clear, and impactful: We intend to make the impact of each monthly Poll clear by adding or removing certain exchanges or strategies from the codebase and documentation, and by focusing on the issues that are chosen by the community.
Let users earn HBOT for valuable community work: We will create well-defined bounties that reward developers for allocating a fixed amount of their time and attention. We also plan to implement vesting contracts for developer bounties over a 3-year period, in order to align the incentives of the developer with the growth of the Hummingbot community.
Reward the community for providing liquidity to HBOT: We plan to engage with centralized exchanges to make the HBOT token more widely available and liquid. Afterwards, we will work with Hummingbot Miner, dMiner and other platforms to reward the community for providing HBOT liquidity across both centralized and decentralized exchanges.
In conclusion, the Hummingbot Foundation is committed to creating a decentralized, community-driven governance model that empowers HBOT users to shape the future of the project through regular monthly Polls. Our goals include financial stability, clear and impactful voting, rewarding valuable community work, and increasing HBOT liquidity. We look forward to working with the community to achieve these objectives and drive the success of the Hummingbot ecosystem.
---
👨‍💻 dMiner Platform's Performance and Updates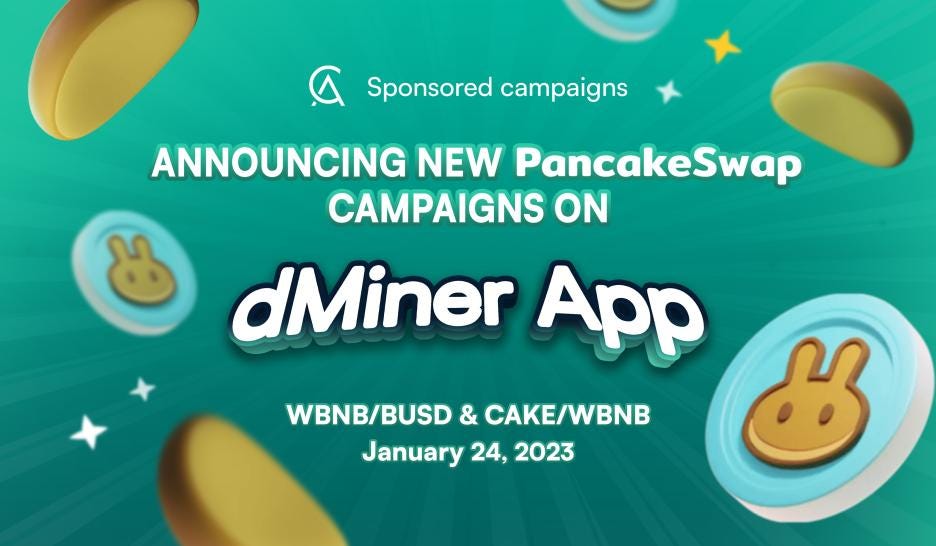 We are thrilled with dMiner's performance so far, as it has already generated over $14 Million in trading volume and over 130 users have tried out the platform.
In addition, we are happy to announce that the dMiner platform have added support for PancakeSwap and launched two campaigns: WBNB/BUSD & CAKE/WBNB, with a US$6,000 total reward pool!
dMiner extends our parent company CoinAlpha's Miner liquidity mining platform to DEXs, at TraderJoe and Pangolin on Avalanche, and Pancakeswap on Binance Smart Chain.
Miners can earn rewards by running Hummingbot, other bot software, or even with manual trading!
Just like the original Miner platform, you compete with other miners for a share of weekly reward pool supplied by platform partners.
Visit the dMiner App to get started!
---
☎️ Orchestration Demo in Next Monthly Community Call
We livestream monthly calls via YouTube that summarize the key happenings in the past month.
During this call, community members klpanagi and TheHolyRoger will give a demo of the new Orchestration Module component that shipped in v1.12. Don't miss it!
When: Wednesday, February 1st, 3pm UTC / 8am PST
Where:
Agenda:
v1.12 Release Highlights
Governance Polls & Updates
Bot Orchestration Demo
AMA
---
❌ Don't fall for HBOT scams!
Finally, we have seen reports of scammers DM-ing users on Discord, Twitter and other channels advertising fake HBOT token sales, as well as bot spammers that impersonated the names & profile of Hummingbot Foundation team members.
If you see anyone trying to scam Hummingbot users, please report it in the new #scam-reports Discord channel.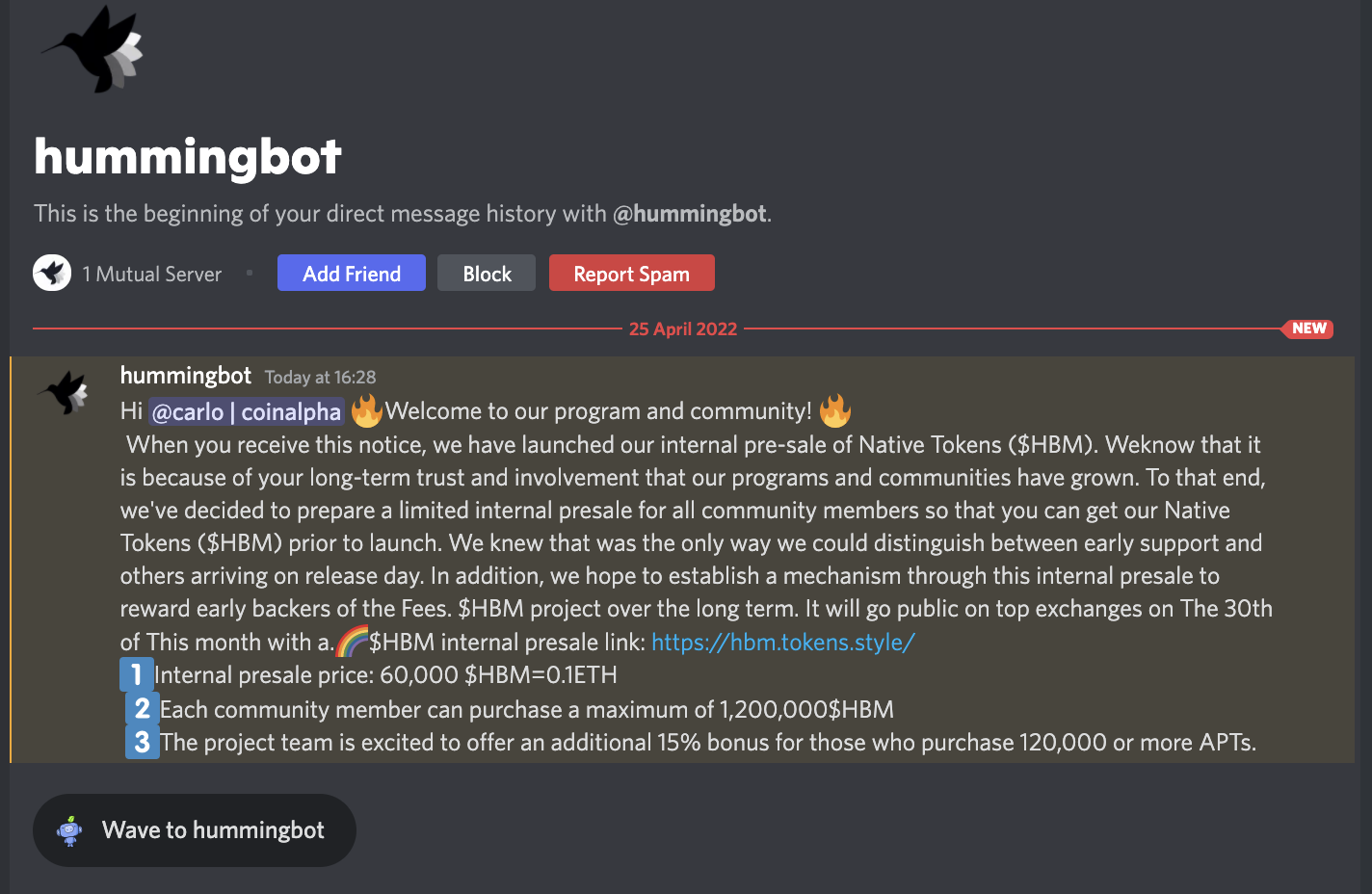 Hummingbot Foundation has never conducted any pre-sale or sale of HBOT tokens, and anyone purporting to offer HBOT tokens is a scammer.
The only way to get HBOT tokens from the Foundation is to earn them.